We Are Reopening Monday June 22nd!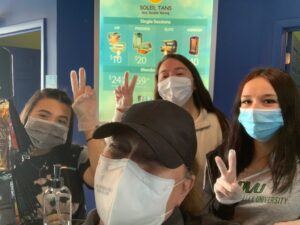 Are you ready to get your glow on again! We are so excited to be opening on Monday June 22nd and hope that we will see your smiling face again soon! We have been getting a lot of questions from our members about how we are handling billing. Here is what we are doing:
If you have an monthly membership your billing will resume as normal on July 1st. This means you get tan on us for the rest of June!
If you have a paid in full membership or a package, the expiration date on your purchase will be extended by three months.
If you have any questions or concerns you can reach out to us directly at 888-765-3451.
We will be doing some things a little bit differently when we reopen.
Below you can see what our staff will be doing and what we will be asking of you, our loyal customers: