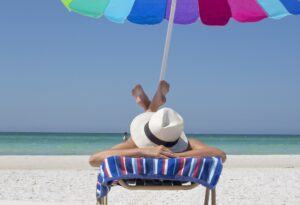 Nothing is worse than reaching that perfect summer shade only to put on your makeup and realizing it no longer matches your skin! Luckily, this unexpected date-night disaster can be averted simply by the right know-how and a little planning ahead.
Today, we're going to talk about how to find a summer shade so that you can be prepared when the time comes. The good news is, come spring and fall; you can mix your winter foundation and summer foundation to get the in-between shades!
Did You Know Your Shade Changes? 
Your skin will get darker during the summer if you go outside. It doesn't matter whether you are intentionally tanning or if you wear sunscreen daily. As such, there's a high chance your foundation will not match your skin at some point. 
In fact, many people find that their skin changes by two shades during the summer without even trying! If you work on a tan, then you could need a foundation three or even four shades darker. This is especially true if your natural skin is pale, and you're looking to get a deep tan.
How to Find Your Summer Shade
Now for the central portion of the post, how to find your shade! Let's get right to it:
Look at Your Base Color
Best pro t!ip: wait until you've reached your summer shade then use your face (jawline is best) as the base to test the makeup. The best option is to go to a place where a salesperson will help you find your shade. With this method, you'll be able to test the makeup with someone who can help you find the perfect shade. 
Test a Few Shades
Don't just trust the first shade you find. Try a few while your at the store and make sure that your salesperson does this if you use one. If alone, eyeball two or three shades that look close, try each. Then, find the one that blends right in, and you've found your shade. 
Use Liquid Bronzer
As your shade changes further, you might need to go darker. However, you don't have to get a whole new shade. Simply get some liquid bronzer and add a little bit to your foundation to change the tone. Your perfect foundation is back again!
Get Your Summer Skin Now! 
If you're looking to get ahead and get your summer tan on now, you're in luck! Soleil Tans is a tanning salon in Cliffwood, New Jersey. We're available for all of your tanning needs. We have UV tanning, sunless tanning, and even red light therapy. If you're looking for supplies, we can provide you with lotions and creams as well. Stop by today for half off a sunless tan!
Author : Todd