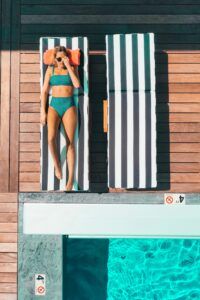 Getting ready for summer means getting that summer glow. However, this isn't the 1980s! While you can go lay in the sun, you have more options than ever before. However, in recent (and not so recent) years, tanning at all has actually caused a stir. On the one hand, there are certainly risks involved with UV tanning. On the other hand, chemicals are bad. So, which is worse? 
Why Do We Worry? 
Harvard has a great discussion talking about the impacts of sunless tanners on skin. While they are overall considered to be miles better for the long-term health of your skin when compared to UV tanning, they aren't without scrutiny. A few recent studies have shown that there could be issues, and much of this topic revolved around the main ingredient: dihydroxyacetone (DHA.)
What's in Sunless Tanner? 
Dihydroxyacetone (DHA) is the main ingredient in most sunless tanners. This is the chemical that tans the skin. It does so by staining the top layer of your skin, creating the illusion of an authentic tan.
Scientifically, DHA binds to the proteins found in your skin – causing the darkening. It's also what causes patches of your skin that are higher in protein to stain more. Hence, the need to exfoliate your feet, hands, elbows, and knees more than the rest of your body. In the top layer of skin, causing it to darken or stain.
Is Sunless Tanning Safe? 
In general, yes. However, for the sake of honesty, nothing is free from potential issues. Allergic reactions can cause long-term health issues. In addition, the age of this technology inhibits much of the research. That said, very few studies have shown any harm if you follow a few safety steps.
No Canthaxanthin
When you choose to tan at home, read reviews, and talk to a doctor first! Never use self-tanning pills made with canthaxanthin. This is a color additive used in foods. They are not safe and, when taken at the recommended level for tanning, overtanning, color deposits in the eye, sickness, and liver problems. 
Talk to a Doctor
As mentioned, sunless tanners can cause allergic reactions. While we know everyone wants that perfect summer glow, it's not worth your life or health. That's why we always try to be 100% transparent with our process. In addition, we recommend that everyone talk to their doctor or a dermatologist before starting sunless tanning or regular UV tanning – especially if you have sensitive skin. 
Choose Reputable Tanners
Our final good health tip – use someone you trust. Many businesses in the tanning industry are unregulated. This means they can get away with doing more than they should. Choose a sunless tanning location that can tell you exactly what their standards are and how they will keep you safe. 
Choose Us for Sunless Tanning!
If you're starting to think tanners at home sound sketchy, we don't blame you! That's why we maintain a goal of clear transparency so that our customers can reach their goal skin color while staying safe. Looking how you want is a right; make sure you look how you want and stay safe by coming to a self-tanning session at our location !
Author : Todd